About our Pads
Palesa Pads are high-quality, reusable cloth sanitary pads made in South Africa. they are more comfortable than disposable pads and can be worn for longer with no odour and fewer menstrual cramps due to the absence of toxic chemicals. They are leak-free, easy to wash and come with a quality guarantee of 5 years.
We have 5 different sizes of pads to cater for all flow types. Pad sizes are sold separately and also in combos and kits.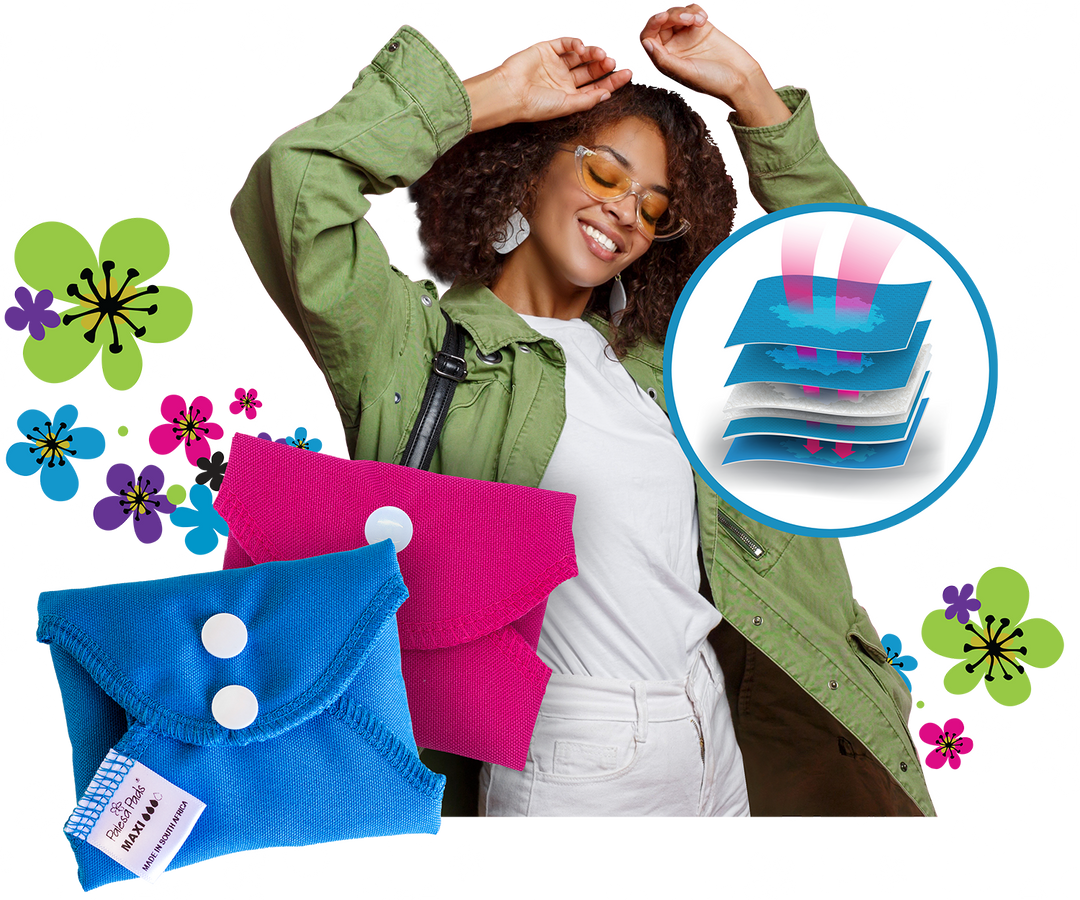 Easy to use, easy to wash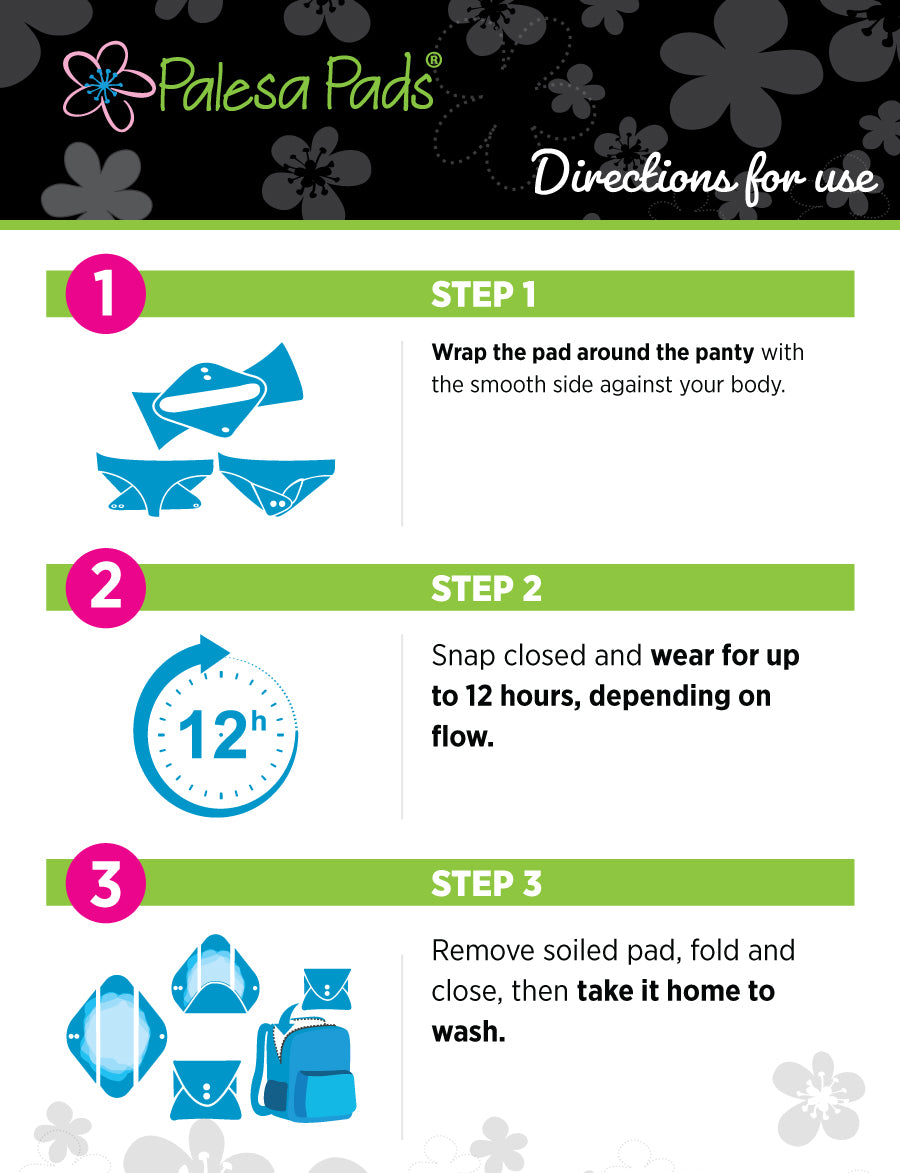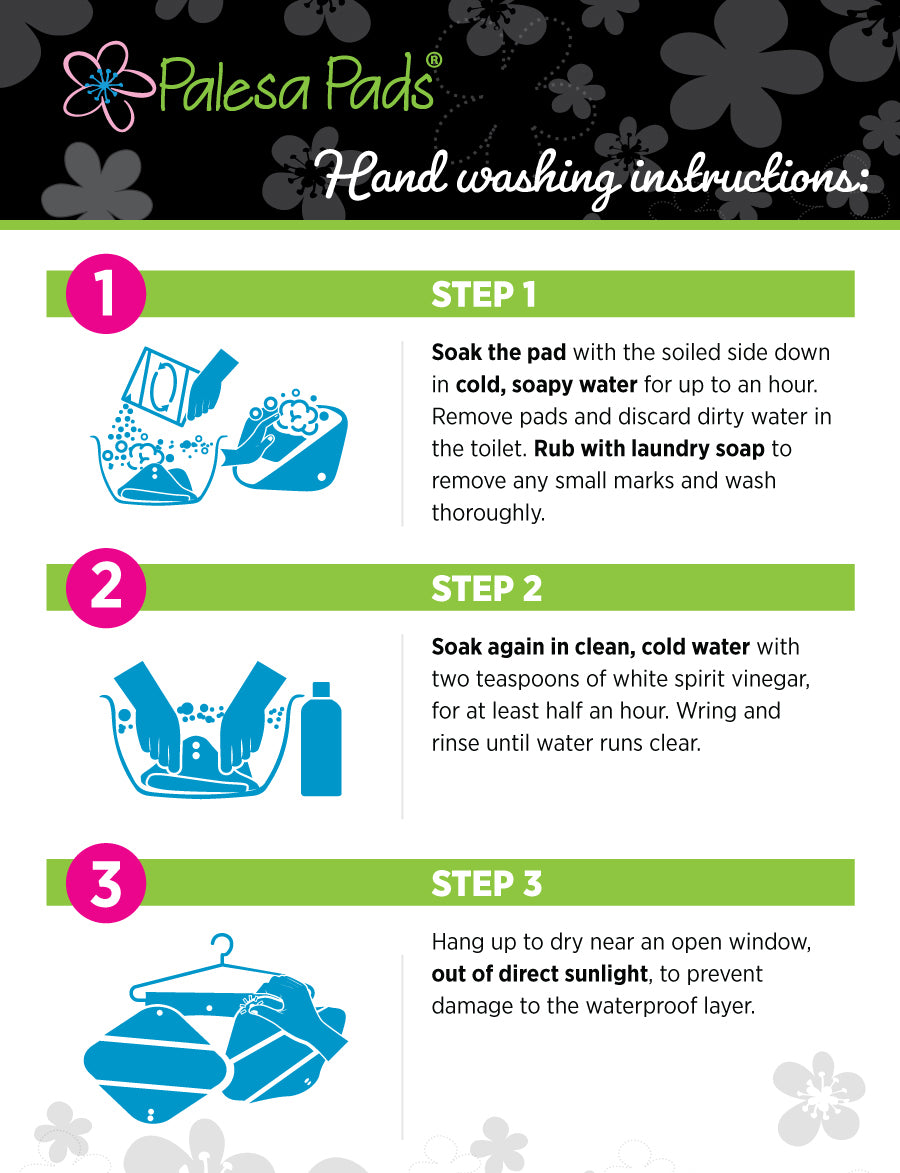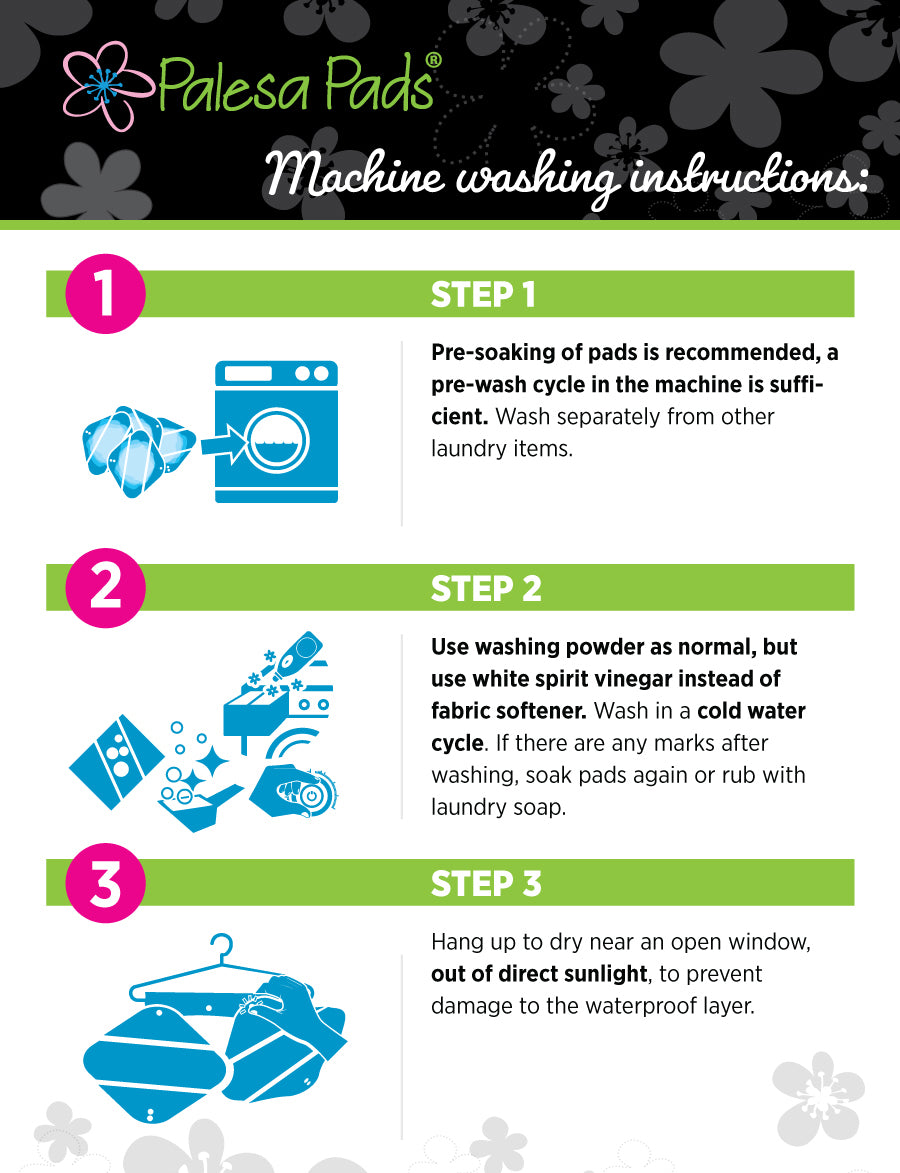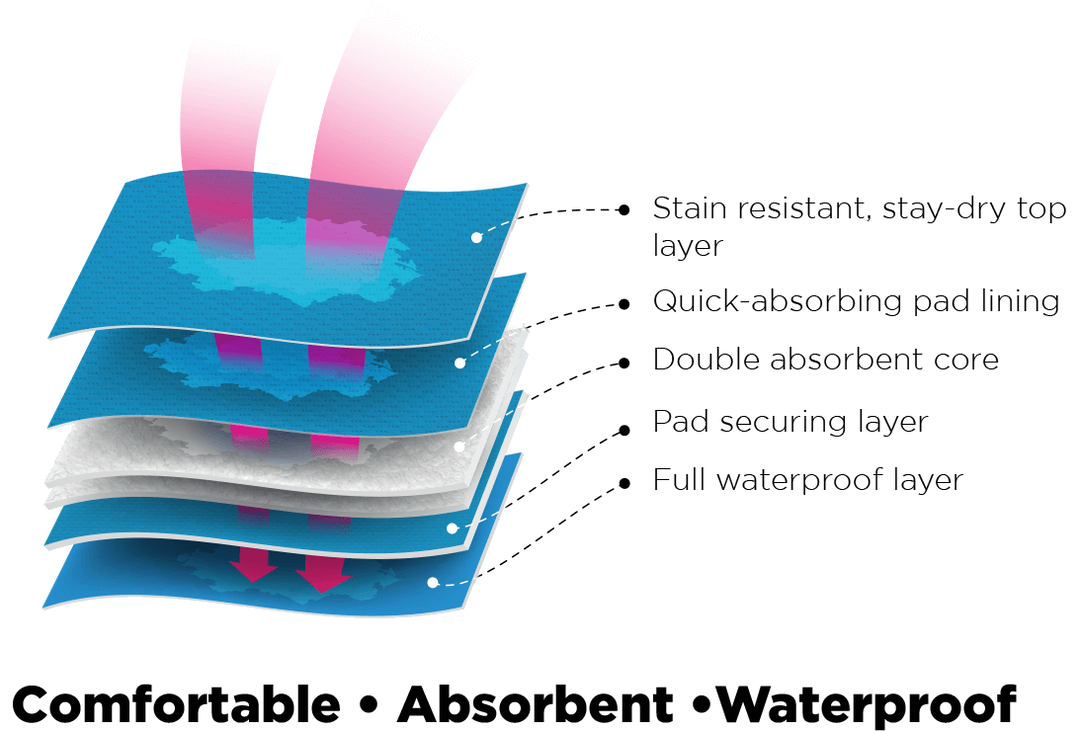 Why they work
We went through many prototypes before finding the perfect design for our pads. The top layer is made from a stain resistant fabric that is easy to clean and underneath we have multiple absorbent and waterproof layers to ensure that your pad stays secure without any leaks.
Switched to Palesa Pads from tampons and now there is no turning back. Superbly made, comfortable to wear, no leaks, no odour, no stains, but most importantly… no pain. Wash and care is simple and discreet. I'm impressed.

Lyndsay Lennox
I bought these, was very skeptical but wanted to give it a try. Best decision I have made. They are more comfortable than normal pads. Buttons are such a brilliant idea not only to secure the pad but to close it up if you need to change one and are not home. This will save me tons of money as well as the environment most importantly.

Landz M
I can honestly say I am NEVER switching back to disposable pads. I am also impressed by how easy and quick they are to wash and dry. I absolutely love how it feels. Super comfortable and soft when you wear them, they fit securely. 10x better than disposables. Highly recommend Palesa Pads. Amazing product!!

Akira Malthoo
This is an excellent product. It's made very well too. Super comfortable and easy to wash. Has made my decision of switching over from disposables an easy and enjoyable experience.

Proxie Penumbra
This is such a great product. Been using it now for quite some time and this was truly a great investment. I highly recommend this very affordable and well made product.

Ange Vdw
I've never had happy periods like this. Palesa Pad is so comfortable and no leaking at all. I highly recommend this product to anyone. 100% happy.

Queen Thako
I've purchased the mini pads and use them as panty liners. I love the fact that they stay in place when you move. Initially I thought they would feel damp overtime, but they actually have a stay-dry feel and don't stain or trap odour after washing. After a long struggle with disposable pantyliners giving me horrible rashes and triggering infections, Palesa came through. Thank you.

Tsholofelo Masia
Best cloth pad in SA! Fast absorption, wicks away moisture and comfortable. I was so shocked I could have a happy period. No more feeling itchy and strange chemicals that turns liquid into gels (normal disposable pads). And the earth thanks you for leaving less of a footprint on it. This is what we need to keep struggling girls in school, a reusable option.

S Mdekazi
This works better than expected and I'm using it exclusively, even when on a camping holiday. Once used, you fold it making use of the clips and that ensures it doesn't soil your other clothes. Easy to clean, wash and rinse. So glad my footprint is less with this product.

E Holtzhausen
It would be ideal to own three to six Palesa Pads if possible. This will allow you to wear one pad and keep a second pad as a back-up, while you wash and dry your other pad/s. There's no need to wash your pads in a washing machine but if you would like to do this and only want to wash your pads once during your monthly cycle, then it's better to have 12 to 15 pads.
A reusable Palea Pad needs to be changed roughly the same number of times in a day as a disposable pad; however, should you need to wear your pad for longer, it can be worn for up to 12 hours, depending on how heavy your flow is.
The top layer of a Palesa Pad is made from a high-quality dry wicking sports fabric that wicks away moisture from your skin, to ensure that you always feel comfortable and dry all day long.
Palesa Pads have 'wings' which fold around your panties, and a press stud clip, that is clipped closed to secure the pad to your panties. This ensures that the pad is kept firmly in place throughout the time you are wearing it.
We use a specially designed TPU waterproof fabric – which is the same fabric used for reusable nappies – to ensure that our pads can capably hold your flow and never leak.
We have carefully developed Palesa Pads to ensure absolute reliability, whether you have a light flow or a heavy flow. Aside from the dry-wicking top layer and the waterproof bottom layer, each Palesa Pad, has multiple ultra-absorbent layers that will soak up your blood as you menstruate, ensuring that you have complete protection from any leakage.

There are three pads in the Palesa Pads range which we recommend you use for a heavy period flow.
The MAXI pad is designed for a heavy flow.
The MEGA pad is designed for a very heavy flow.
The MAMA pad is designed for an extremely heavy flow and for maternal use.
You will know your pad is full when you see the blood creeping to the side of the pad. When this happens, unclip the pad and close it into an envelope shape. Then snap it closed with the snaps on the pad. You can store it discreetly in your bag and take it home to wash. Remember to put on a fresh Palesa Pad and you're good to go!
You can use any soap powder to wash your pads or a simple green soap bar (like Sunlight Soap) to gently rub your pad and easily remove any stains.
Palesa Pads are made of a unique sports fabric that dries quickly with a little bit of air. It is better to keep them out of the direct sunlight however if you are in a hurry, it's fine to let them lie in the direct sun for up to an hour. If you leave your pads in the sun for too long, the waterproof layer will get damaged and your pads might leak.
Palesa Pads have been tried and tested over many years and can last for up to 5 years, if cared for correctly.
If your pads have any stains on them after you've washed them, simply repeat the washing process. Soak them for an hour in cold soapy water, rub them with laundry soap and remove the marks. All marks do eventually come off without the use of bleach or other chemicals.
Palesa Pads are extremely hygienic, but it is important to keep them clean. A person wears a pair of panties and washes them multiple times before replacing them. The concept of cloth pads is the same. Dirty panties can lead to infections and so can dirty pads. It's important to remove all marks from pads and panties to keep them hygienically clean. Pads and panties should never be worn twice in a row without washing and should never be shared with anyone, not even a close family member.

We have found that the young girls are thrilled to find that they no longer experience a smell during menstruation once they have moved to Palesa Pads.
The water usage is not significant at all. We performed an experiment a while ago using only bottles of water to wash the pads, no running water, and the result was that we used less than the 20L allocated to wash all the pads hygienically for a full 5-day cycle. This is less water than is used for a daily bath. Palesa Pads supplies a bucket and cleaning products with the pads so there is no need for pads to be rinsed under running water.
In areas with severe water shortages, girls can wash their pads in their bath or rinsing water as they do with their panties and socks, whish is part of their daily routine.